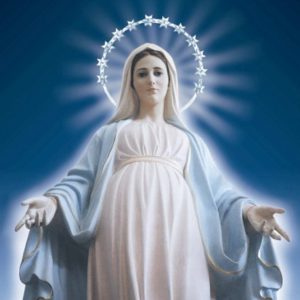 Catholics have for centuries kept special devotions for our Mother Mary during the month of May, both in public gatherings and in their own homes.
With our households under quarantine, this is the perfect time to bring these beautiful traditions back to our homes. Pope Paul VI , in his 1965 encyclical on the 
Month of May
 devotion urged the faithful to make use of this practice which is "gladdening and consoling" – sounds like just what just what we need now!
You can read a brief article on how the month of May became dedicated to honoring our Mother Mary
here
.
There are any number of ways to celebrate Mary this month – here are just a few:
May Altar – We can honor Mary as the Mother of the Church in our homes – the domestic churches. Maybe you already have a prayer corner that could include a special place for Mary during May. You can honor Mary with a May altar easily with things you may already have at home.
Image of the Blessed Mother: Usually a statue of Mary is used, but if you don't have a statue, a holy card or picture will do, (or check your nativity set for a Mary figurine).
 Altar cloth: Cover the table or shelf with blue fabric, tablecloth, or place mat
 Candle: Any size or number of candles is fine.
Flowers: A bouquet, or a vase to add flowering branches or blooms from your yard as they start to blossom this month.
This special altar is a visual reminder of Mary's loving and maternal presence in our lives. Praying before it we can, in the words of Pope Paul VI, "let our petitions fly to Our Lady—especially for the needs of the Church and the whole human race—that most urgently require our Blessed Mother's intercession".
The Most Holy Rosary –
Outside of Mass there is no other prayer more pleasing to our Mother than the
Rosary.
St. John Paul II in his document on the Blessed Virgin Mary and the Rosary insisted, pleaded, that the whole world pray the Holy Rosary for the salvation of the family and for world peace.
On May 13th we celebrate
Our Lady of Fatima
who appeared six times to the Shepherd children—Lucia, Jacinta and Francisco, insisting upon the praying of the most Holy Rosary. Let us also be obedient children and pray our Mother's requested prayer.
Learn or pray a new Marian Devotion (there are a lot of them!) Try one of these: