We offer several opportunities throughout the year for spiritual enrichment through small group discussions, book studies, DVD series, and classes.   We try to offer a variety of meeting times and days to make it convenient for all who would like to participate.
Ongoing:
Scripture Studies – Morning Bible Study  "To know Scripture is to know Jesus" – Sr. Bernie facilitates this group on Thursday mornings after the 9am Mass. The focus is the Sunday scriptures with reflection and discussion from the group.
Scripture Study (Men's): Participants learn about the scriptures in a a small- group friendly atmosphere. We share our faith journeys through prayer and study of the Bible; building friendships while learning about Christ. This opportunity is loosely structured, following a study guide. Cost for the study guide is $7 – $9, available at the meeting.
Seasonal:
We offer several opportunities for groups to meet during the seasons of Advent and Lent. This is an excellent way to set aside time to reflect and prepare for the beautiful Christmas and Easter seasons. Seasonal enrichment sessions will be posted as those seasons get closer.
Lent 2023 -Deacon Greg Sokolowski will be facilitating a video/discussion series "The Search"  on the Mondays at 6:30pm from Feb. 13 – March 27  Learn more here.
Online:
FORMED.org- Catholic studies, movies, talks and e-books for adults and children, in English and Spanish, all available to you on your own computer, tablet, or iPad, any time, anywhere. Free subscription through our parish! Click the picture to register an account, then just log in after that anytime to start viewing great Catholic content!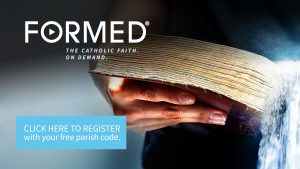 We hope you will take advantage of one or more of these opportunities to deepen your faith and connect with members of your Parish Family.