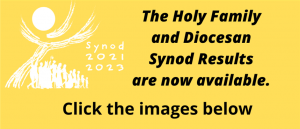 Weekend Mass Times:
Saturday    5:30 p.m.
Sunday       9:00 a.m. & 11:00 a.m.
Weekday Mass or Service Times:
Monday   Word & Communion Service only  9:00 a.m.
Tuesday – Friday    Mass at 9:00 a.m.
The Rosary is prayed each morning, Monday through Friday at 8:30 a.m.
Individual Sacrament of Reconciliation
Saturday   4:15-5:00 p.m. – or by appointment.
Office Hours
Monday through Friday 8:30 a.m.-5::00 p.m.  – Closed for lunch from Noon-1:00 p.m.
Check current Parish, Diocesan and Area News & Events