Our Shepherds – Our Future Diocesan Capital Campaign: Providing for the needs of the Catholic Church in West Michigan
Grand Rapids Diocese- Complete Campaign Information       Letter from Bishop David Walkowiak         Campaign prayer
Campaign Goal $33 Million    
Campaign Initiatives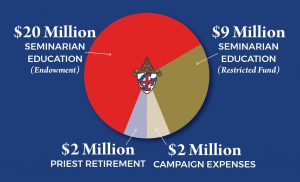 Campaign Schedule: The 80 parishes of our diocese are scheduled to participate in the campaign in three waves: May – July 2019 (pilot wave); November 2019 – February 2020, and May – July 2020.
Holy Family Parish is part of the Pilot Wave of the campaign with a parish goal of $409,461
From Msgr. Terry:
"Our Shepherds – Our Future Capital Campaign is still rolling in full-force and Holy family is leading the charge! We have raised 80% of our parish goal of $409,461, a higher percentage than any of the other seven parishes participating in this pilot wave! Our parishioner participation also leads the other parishes in the campaign!  With the whole month of July ahead of us, I invite all of you who have not yet registered a decision to do so. We already know how special a parish Holy Family is and it makes me proud to know Catholics across Grand Rapids are seeing our model of support for our seminarians and priests.
If you have been contacted by one of our parish ambassadors, please return their call! If you received your pledge card in the mail, please discern your gift and return that pledge card to Cathedral Square or our offertory basket. If you would like to speak with an ambassador before making your decision, please let me know! Our success depends on each one of us and I thank you for your continued prayers and support."
HOW DID WE GET HERE?
A focus on vocations to the priesthood by Bishop Walkowiak has resulted in a 45% increase in the number of men studying for the priesthood for our diocese over the past five years.
WHERE ARE WE NOW?
The holistic formation our seminarians receive is comprised of human and spiritual formation, academic training in philosophy and theology, and pastoral formation. This comprehensive approach prepares them well for the rigorous and rewarding life of a priest, but it also requires a significant investment, particularly at the graduate level. Our seminarians need our help to make their ministry possible. The diocese is committed to helping cover the costs of seminarian education to help ensure that we have enough priests to serve our parishes into the future, especially since 32 priests will be at or over retirement age within the next decade.
WHERE ARE WE HEADED?
The current source of funding – outside of the Catholic Services Appeal (CSA) – for our men studying for the priesthood will be depleted by the end of 2019. Along with the blessing of a growing cohort of seminarians comes the responsibility to cover the cost of this ministry investment. We are called, not only to encourage young men to answer God's call by assuming some of their financial burdens, but also called as Catholics to help ensure for them a dignified retirement after their lifetime of service.