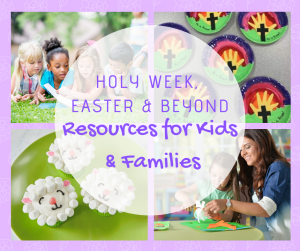 Keeping kids focused (and busy), but mostly centered on Jesus during this stay-at-home time is difficult! Here are some Christ-centered activities that can help. Visit the links below for some fun lessons, crafts, recipes and more.
Visit catholicicing.com for her Coronavirus: Catholics at home page. Scroll down to her Ultimate Guide for Celebrating Holy Week with Kids for TONS of fun! Also her Easter activities look great! (Subscribe to her page for Catholic activities throughout the year!)
FORMED.org : Brother Francis Video- The Stations of the Cross.  New to Formed.org? Sign up/in instructions below. Signed in before? Watch now  (New FORMED visitors can register their FREE account by:      Go to Formed.org  ·         Click on "Sign Up" (If this is your first visit to the site- otherwise simply sign in with your email) ·         You will be taken to a screen with 3 options; choose "I belong to a parish or organization"
·         Enter the parish zip code 49345; choose "Holy Family Catholic Church" ·         Enter your name and email address; it will direct you to check your email ·         From your email account click on the link provided to enter into the formed website to access any of their content. ·         For future logins just sign-in with your email and start watching!
Catholic Cuisine Blog has a recipe for almost every Liturgical celebration or Saint of the year!
Little Saint Adventures is a Catholic App for kids (and parents) with faith-filled games and activities. Downloadable at the App Store or Google Play  (5-star ratings)
Catholic Easter Basket Gifts for an Unusual Easter  from Catholicallyear.com
Well-Being:
Catechist.com – A Family Plan to THRIVE through Quarantine
Child Trend – Supporting Children's Emotional Well-Being During the COVID-19 Pandemic
Ave Maria Press – Stress, Anxiety, and Mental Health